A workshop on the topic "Transition to a Circular Economy – Innovations and Clean Technologies" was held in Sofia, Bulgaria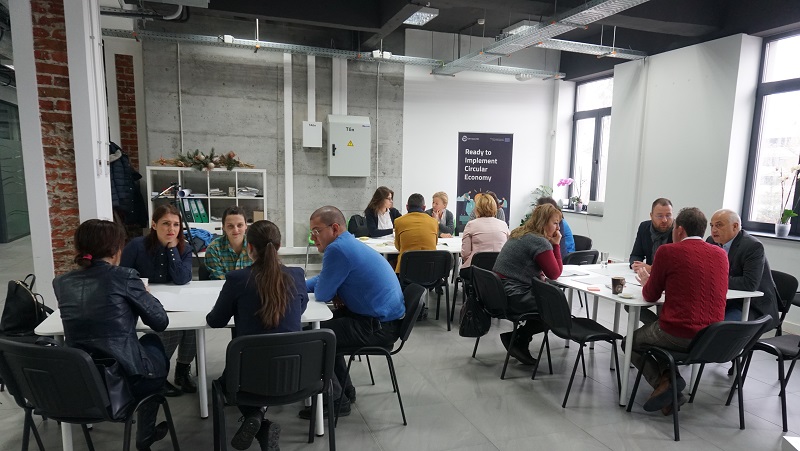 On 15-16 December, 2018, in the office of Cleantech Bulgaria the workshop Transition to a Circular Economy – Innovations and Clean Technologies was held, organized under project Ready to Implement Circular Economy, which is implemented with the financial support of EIT Climate-KIC.
The main participants in the workshop were students of the Master Programme "Circular Economy and Sustainable Management" jointly organized by Cleantech Bulgaria and the University of Finance, Business and Entrepreneurship, as well as participants of the Needs Assessment Survey on Circular Economy educational modules in Europe, which was implemented under the project. Guest lecturer in the workshop were:
Mr. Markus Laubscher – Director Sustainability & Circular Economy, Philips, and
Assoc. Prof.  Stiliyan Stefanov – lecturer in Ecology and Sustainable Development at the University of National and World Economy in Sofia.
The main topics of the workshop were:
Clean technology and innovation
Circular product/ service lifecycle creation
Implementation of new technologies and innovations in production and market innovative business models (case study Philips)
Circular business models creation
Eco-design and sustainable consumption
Technology transfer and commercialization of new technologies
Business simulation
All participants found the themes extremely interesting and actively took part in a discussion aimed at finding solutions to real Circular Economy business cases. They all declared their interest to take part in further trainings,workshops and events dedicated to the Circular Economy.