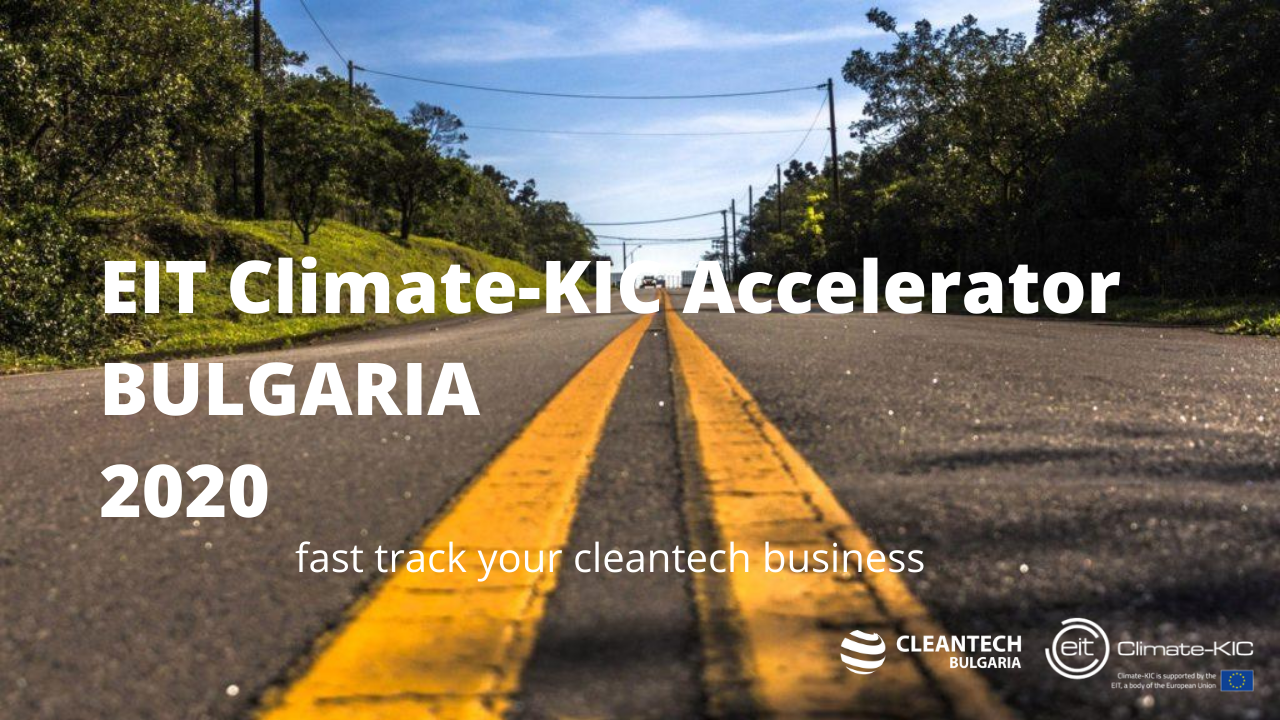 Climate-KIC Accelerator is Europe's largest green tech accelerator for early stage startups. A unique program suitable for young companies, spin offs and even non-incorporated teams of entrepreneurs ambitious to deliver sustainable business solutions, clean technologies and climate innovation. Priority themes include:
Digital transformation, E commerce, IoT, IA;
Decision metrics;
Smart urban mobility, transport and logistics;
Process optimization;
Biotech; Chemistry;
Precise agriculture and sustainable land use;
Resource management and circular economy;
Clean Industry;
Energy management and storage;
Foodtech
The programme is part of the largest public-private partnership in Europe in the field of climate change – Climate-KIC and works in a network with 24 other EU countries, investing over 9 mln euro since 2011 in over 1200 start-ups with a return rate of over 20 times.
In Bulgaria the Accelerator is executed by Cleantech Bulgaria.
In Bulgaria, during its three editions, the programme has invested in 24 teams which have attracted over 1 mln BGN external investment and have launched a number of innovative products on the market.
What does the Climate-KIC Accelerator Bulgaria offer?
No-equity funding  delivered in three stages according to the maturity of the start-up:
– Phase I  up to 10 000 € for business model development,
– Phase II up to 15 000 € for customer validation and first sales
– Phase III up to 50 000 € for scale-up and investor readiness
Access to a unique international network of experts, entrepreneurs and investors with multiple opportunities for further development and investments – international master classes, venture competitions and top tech-events
High-quality intensive education and individual support from mentors and trainers throughout the whole duration of the programme
Developing key entrepreneurial skills such as business-modelling, hypothesis validation and presentation skills, sustainable dimensions
Accelerated business development and achieved goals.
Applications until
08.03.2020
Climate-KIC Accelerator coordinator in Bulgaria:
Maria Alexandrova
maria@cleantech.bg
+359 87 792 69 96
EIT Food´s funding Call for innovative proposals to build a future-fit #FoodSystem is now open! They are looking to identify projects that demonstrate innovative, technological and sustainable solutions to some of the biggest challenges the food system is facing. EIT...
Do you want to make a real difference? Now, more than ever, is an ideal time. EIT Food creates a network of women leaders who wish to drive change, innovation and sustainability within the food sector as we face supply chain challenges. All you need to be is a woman...