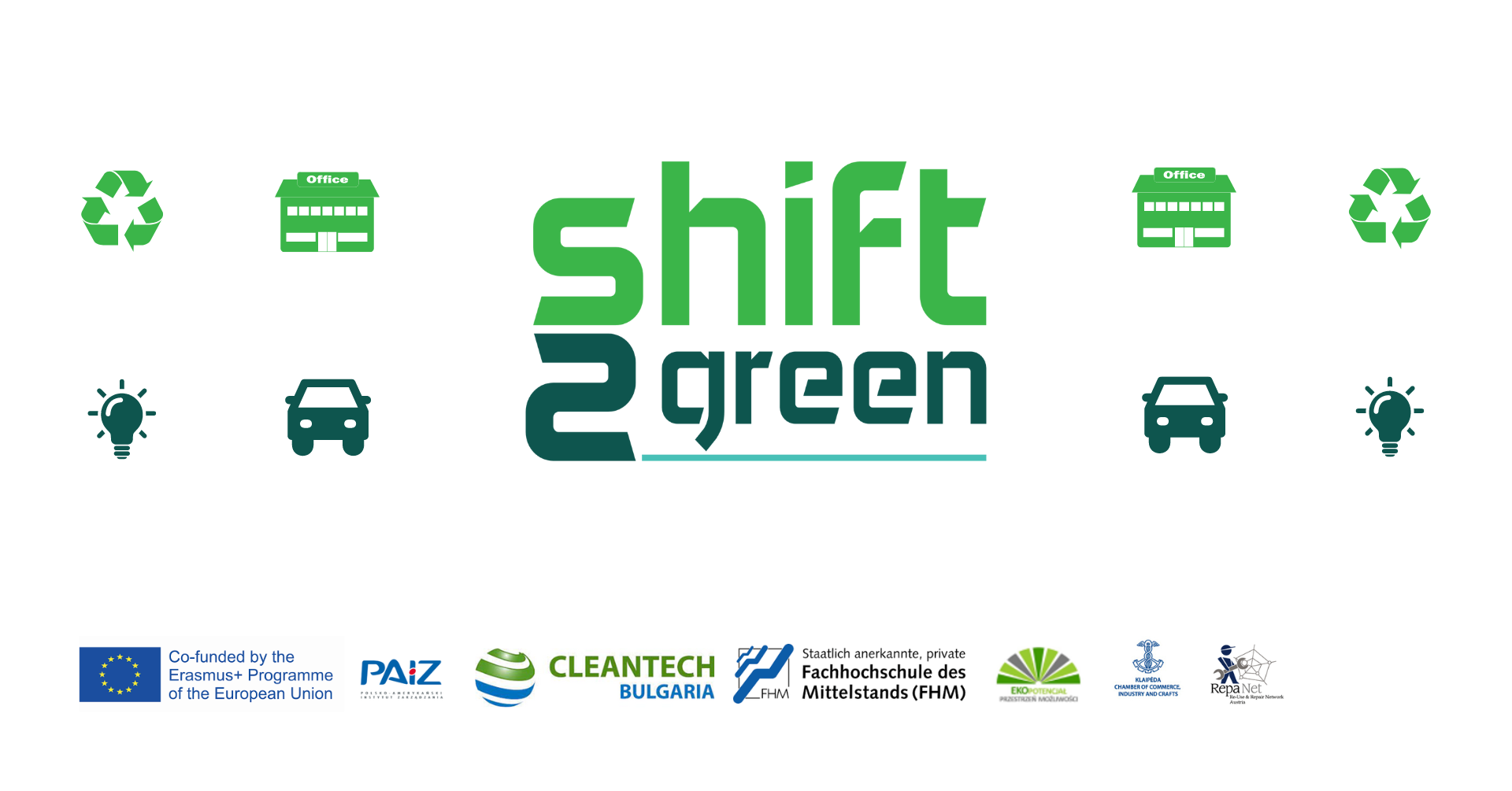 Shift 2 Green – Promoting Eco-friendly Habits at Work with Gamification
The consequences of climate change and the need for ecological transition have a significant impact on Europe's policymaking processes related to introducing sustainable measures towards environmental protection.
The Shift2Green project aims to develop new knowledge and skills in the field of sustainable environmental practices and the transition to circular economy among leaders and staff in SMEs to move towards a green transformation, both at an organizational and personal level. Through the development of innovative digital educational solutions and tools with elements of gamification, the introduction of eco-practices in business structures will be supported to achieve lasting behavioral changes among the employees.
Grant agreement: KA220-VET-80B7D207
Funding program: Erasmus+
Budget: 250 000 EUR
Start Date: 01.11.2022
End Date: 30.04.2025
Duration: 30 months
Project activities include:
Assessment and analysis of the needs of partner organizations and the SME sector in the field of green practices on the work place
Development and piloting of gamified platform among SMEs encouraging and fostering the adoption of sustainable, green practices and behaviors in companies
Support for VET teachers and change leaders in SMEs towards green transformation with real examples and guidance on the usage of gamified tools towards behavioral change
Raising the awareness and building capacity of employees about topics such as environmental change, climate change, sustainable collection of waste and others
The expected results of the project implementation include:
Increased awareness among leaders and employees in SMEs regarding climate change and possible ways to build ecological habits on personal and organizational level
Development and distribution of digital training tools with gamification elements, through which to influence the behavior of target groups towards environmental protection and transition to a circular economy
Implementation of innovative practices and approaches in the field of vocational education and training (VET)